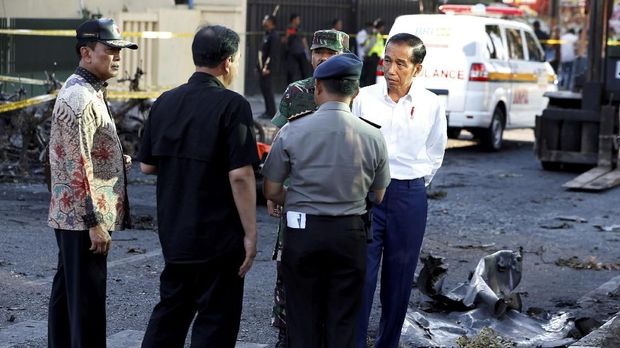 From the Central Headquarters of the West Papua Revolutionary Army (WPRA), Lt Gen. WPRA Amunggut Tabi, on behalf of Gen. TRWP Mathias Wenda
Expresses Deep Condolences to Families, Friends and Relatives Killed by Inhuman Bombers in colonial town of Surabaya, Indonesia.
Strongly Condemns Indonesian Terrorists as Barbaric and non-human, as being nurtured and kept grow in Indonesia by various state-agencies and majority Moslem populations of Indonesia. Using the name of God for kiling other human created by God when they are worshiping God is barbaric uncivilised act.
Every human beings today in the world that watch this barbaric, inhuman, uncivilised acts of terror in the name of religion and God should understand that Indonesia is keeping terrorists, Indonesia is nurturing terrorists, Indonesia is allowing terrorists grow well.
Only when foreign funds and guns are supplied then they will act as if they are against terrorists, but on many occasions they have been spotted running training together with the Indonesian Special Armed Forces, polices forces as well as with other militia groups that operate in all political parties in Indonesia that generally labelled as "Satgas" (Task Force).
When there is no mor funds and training from abroad, then they allow the terrorists to bomb. This kind of behaviour is also inhuman, uncivilized because it costs lives of innocent civilians, mothers and children.
The West Papua Revolutionary Army (WPRA), even though fighting against the might of Indonesia State-Terrorism, never carry out suicide bombings, bombings in churches, mosques or other worshiping places, and always avoid casualties on children and women. Indonesian terrorists are just like their State-Terrorists, they kill priests and evangelists, Christians in West Papua, bomb villages and burn churches. The world never know these stories are real. We know it from our daily experiences. And this week, the world knows it because of the bombing in churches.
The world should not allow Indonesia to become powerful in South East Asia and South Pacific Region, across small countries in Melanesia, Micronesia and Polynesia, as they will spread the spirit and energy of terror, murder, killing in barbaric and uncivilized way across our Melanesian, Polynesian and Micronesian brothers and sisters.
All Pacific Island countries should not expect Indonesia to end its violations of human rights in West Papua. It should not think of bringing a peace settlement. Islamic Jihadists, Islam Terrorists are strongly involved in fighting against Free West Papua Campaigns.
ISIS training camps are situated in some areas across the border between West Papua and Papua New Guinea. Only blind people will not notice this.
Issued in : WPRA Central HW
On date: 14 May 2018
signed
Amunggut Tabi, Lt.Gen.WPRA
BRN: A.DF 018676