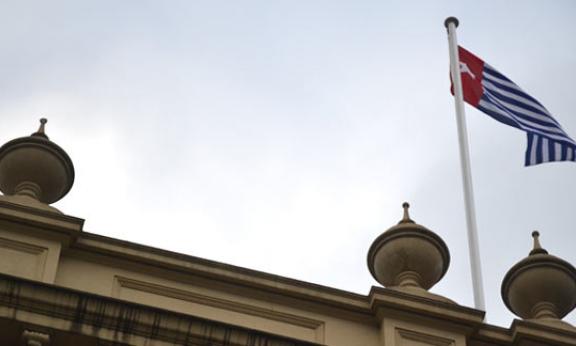 The s has renewed a memorandum of understanding with the Federal Republic of West Papua (FRWP), pledging support for the cause of West Papuan self-determination.
The signing ceremony on 15 May was attended by members of the West Papuan community and a number of trade union leaders, including ACTU president Ged Kearney, Victorian Trades Hall secretary Luke Hilakari, Communication Workers Union Victorian branch secretaries Len Cooper and Joan Doyle and Maritime Union Victorian branch secretary Kevin Bracken.
FRWP minister for foreign affairs, immigration and trade, Jacob Rumbiak, told Red Flag that the memorandum, first signed in 2000, is being renewed because there is now greater international recognition of and support for West Papua.
The territory covers the western half of the island of New Guinea, located just north of Australia. It has been under Indonesian rule since the mid-1960s. More than 100,000 West Papuans are estimated to have been killed as a result of the occupation. The Indonesian military acts with impunity, often hand-in-glove with the operators of the Grasberg mine, the largest gold mine in the world.
"I hope that this [renewal] will in turn mean that the ACTU will petition the ALP to change its policy", Dr Rumbiak said. The Labor Party currently supports Special Autonomy for West Papua. That path was initiated in 2001 but led nowhere. "They should change to support the right of self-determination", he said.
The memorandum also pledges to "support the application by the United Liberation Movement (ULM) of West Papua for full membership of the Melanesian Spearhead Group". The United Liberation Movement, of which the FRWP is a part, was formed in December last year to present a common voice of a number of different groups within the West Papuan liberation struggle.
The Melanesian Spearhead Group consists of Fiji, Vanuatu, Papua New Guinea and the Solomon Islands, along with the Kanak and Socialist National Liberation Front of New Caledonia. If the ULM were granted membership of the Spearhead Group, it would be seen as an endorsement of West Papua's right to self-determination.
[To find out more about the campaign for West Papuan self-determination, visit freewestpapua.org.]
SourceL https://redflag.org.au/