By Vilimaina Naqelevuki in Suva
Media access to West Papua, where more than half a million of its indigenous people have reportedly been killed over five decades, remains restricted.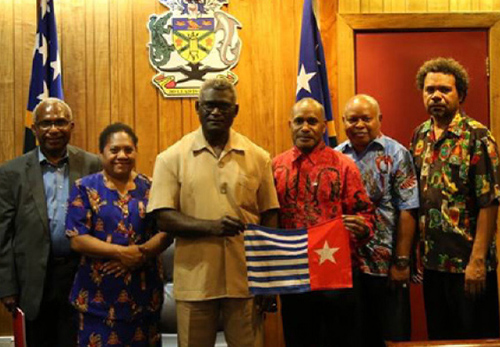 News coverage of the alleged genocide is extremely difficult because of the restrictions on local and foreign media.
Some West Papuan journalists have also died in their effort to tell the truth about the deaths that largely occur in remote rural areas.
This makes news coverage of the alleged atrocities in the Indonesia-occupied land extremely difficult.
West Papuan independence leader Benny Wenda, in an online interview, told Wansolwara the restrictions allowed for the atrocities to remain "silenced".
And even if access was granted after the labyrinthine effort, "journalists cannot go freely to report on politics in West Papua," he said.
"They will get followed and questioned by Indonesian intelligence and West Papuans will suffer intimidation and threats if they speak to journalists."
Recent prominence
Papua New Guinea Media Council president Alexander Rheeney said West Papua's struggle of more than 50 years had only been given prominence in the region's mainstream media in recent years.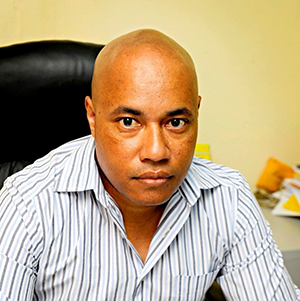 Less than 10 years ago, the mainstream news media – in neighbouring countries like Fiji, Australia and New Zealand, ignored the situation in West Papua. It was effectively a media "black hole".
Rheeney said it was more challenging for Pacific journalists whose governments recognised the sovereignty Indonesia had over West Papua.
"The media in PNG have reported on West Papua and all the human rights abuses but not as much as we would want it to despite the fact that PNG and West Papua share a land order," he said.
The increasing coverage by Pacific news media should be commended, said journalism educator Professor David Robie.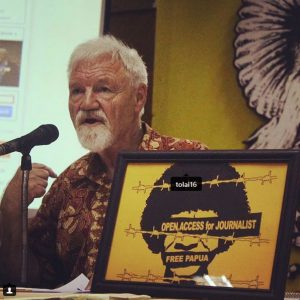 Dr Robie, director of the Auckland-based Pacific Media Centre, who has regularly written and published news on West Papua's struggle for more than three decades, said it was a huge relief that the Pacific was "finally waking up to the issue of West Papua".
"This an issue of Melanesian solidarity, Pacific solidarity – an issue of self-determination, and the Pacific countries that got independence on a plate ought to be telling this story,"
he said.
Jakarta media freedom conference
Dr Robie was one of the keynote speakers invited last month to the Free Media in West Papua forum at the UNESCO World Press Freedom Day 2017 conference in the Indonesian capital of Jakarta.
He spoke along with Indonesian and Papuan human rights activists and Tabloid Jubi editor Victor Mambor of Jayapura.
Pacific Freedom Forum editor Jason Brown said it was an utter disgrace that some in mainstream media published or broadcast stories on wars from other regions and "not in our own backyard".
"In recent years, RNZI has done a much better job of covering West Papua. The recent closure of shortwave services by Radio Australia, however, means that the region has lost reliable access to news on West Papua from that source," said Brown.
Rheeney warned that the region could not afford to fail fellow Pacific Islanders of West Papua.
He said to do so would be to doom the Pacific region to more instability.
"If a prosperous Pacific region is to be ensured, the issue of West Papua must be addressed," he said.
Timor-Leste lessons
"As journalists we can no longer continue to turn a blind eye on all the human rights abuses that is happening.
"The PNG government can no longer turn a blind eye on what is happening on the other side of the border."
Dr Robie said that informed political decisions could not be reached if the news media were not allowed to report freely on West Papua.
He said this lesson could easily be drawn from East-Timor's road to independence.
East Timor, which was also occupied by Indonesia in 1975, secured its independence after a handful of journalists exposed the human rights violations through video smuggled out of the Indonesian-ruled territory, especially after the Santa Cruz massacre in the capital Dili in 1991.
Indonesia's control rapidly fell apart after international pressure.
"In-depth and timely media coverage will save lives as West Papua lurches towards independence — which will come eventually — no matter how hard Jakarta tries to block this," said Dr Robie.
Rheeney is also optimistic. He said Pacific journalists should continue to report on the issue, to keep the struggle in the news so that lasting solutions were found sooner and more bloodshed is prevented.
Vilimaina Naqelevuki is a final year journalism student with the USP Journalism Programme. Naqelevuki is pursuing a double major in journalism and politics, and is pictures editor of Wansolwara, the student news publication produced by the Journalism Programme.